ASUS Dual Radeon™ RX 6700 XT 12GB GDDR6 is armed to dish out frames and keep vitals in check.
Axial-tech fan design features a smaller fan hub that facilitates longer blades and a barrier ring that increases downward air pressure.
Dual ball fan bearings can last up to twice as long as sleeve bearing designs.
Auto-Extreme Technology uses automation to enhance reliability.
A protective backplate prevents PCB flex and trace damage.
Delivering the latest AMD RDNA™ 2 architecture experience in its purest form, the ASUS Dual Radeon™ RX 6700 XT melds performance and simplicity like no other. Leveraging advanced cooling technologies derived from flagship graphics cards, the Dual opts for substance over style, the perfect choice for a well-balanced build. Buckle up and engage cutting-edge gaming prowess.
Axial-tech Fan Design
Two tried-and-true Axial-tech fans feature a smaller hub that facilitates longer blades and a barrier ring to increase downward air pressure.
0dB Technology
An advanced onboard controller brings fans to a standstill when the GPU core temperature is below 55 Celsius, letting you enjoy light gaming in relative silence. As temps rise past the threshold, the fans automatically start up again.
Dual BIOS
Do you prioritize low core temps or low noise levels? Performance mode will let the fans spin up to keep the card running cool all the time. Quiet mode keeps the same power target and top-end settings, but offers a less aggressive fan curve for quieter operation at medium temps. For even more customization and control, check out our GPU Tweak II software.
Auto-Extreme Technology
Precision automated manufacturing
Auto-Extreme Technology is an automated manufacturing process that sets new standards in the industry by allowing all soldering to be completed in a single pass. This reduces thermal strain on components and avoids the use of harsh cleaning chemicals, resulting in less environmental impact, lower manufacturing power consumption, and a more reliable product overall.
Protective Backplate
The PCB is reinforced by an aluminum backplate that adds structural rigidity, helping to prevent PCB flex and protect components and trace pathways from damage.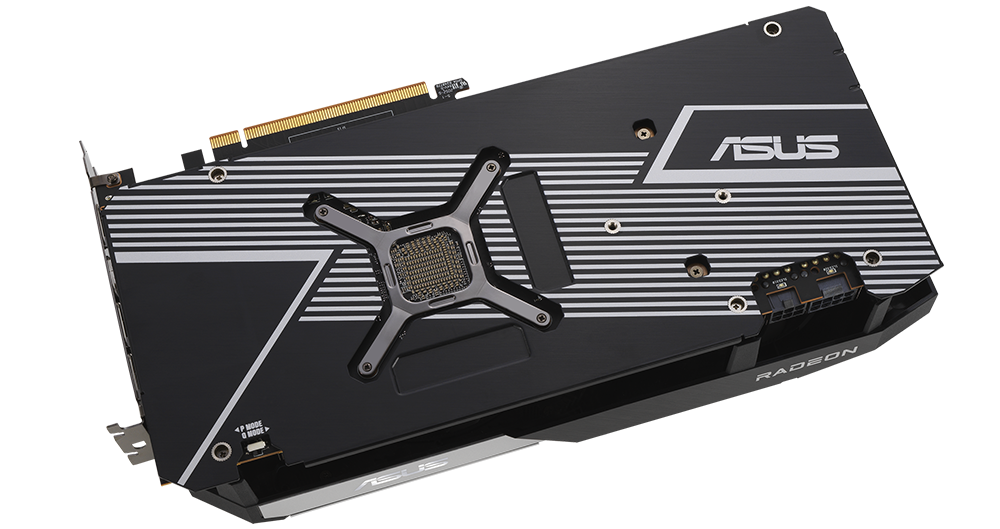 GPU Bracket
A GPU bracket provides uniform mounting pressure and extra stability to the critical connection between die and heat spreader.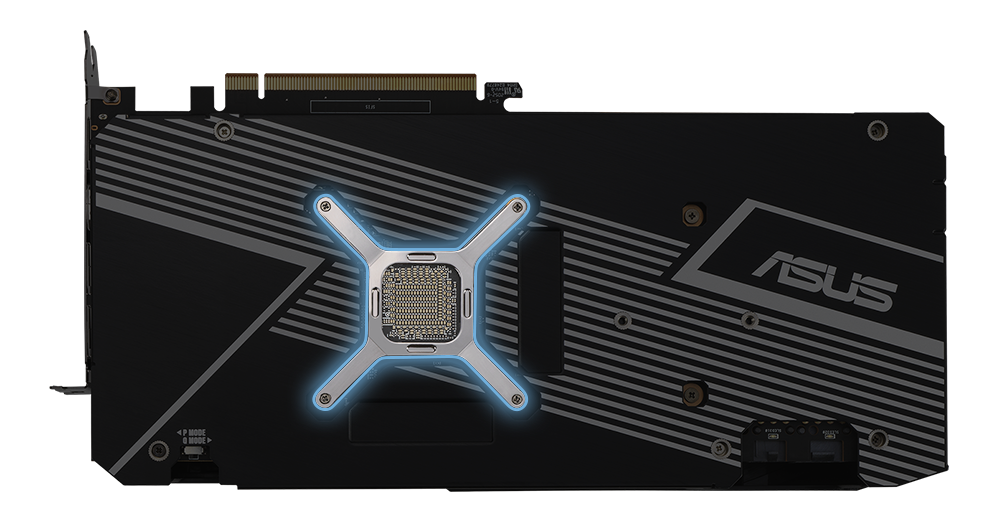 Stainless Steel Bracket
The mounting bracket of the Dual has been beefed up with 304 Stainless Steel that is harder and more resistant to corrosion.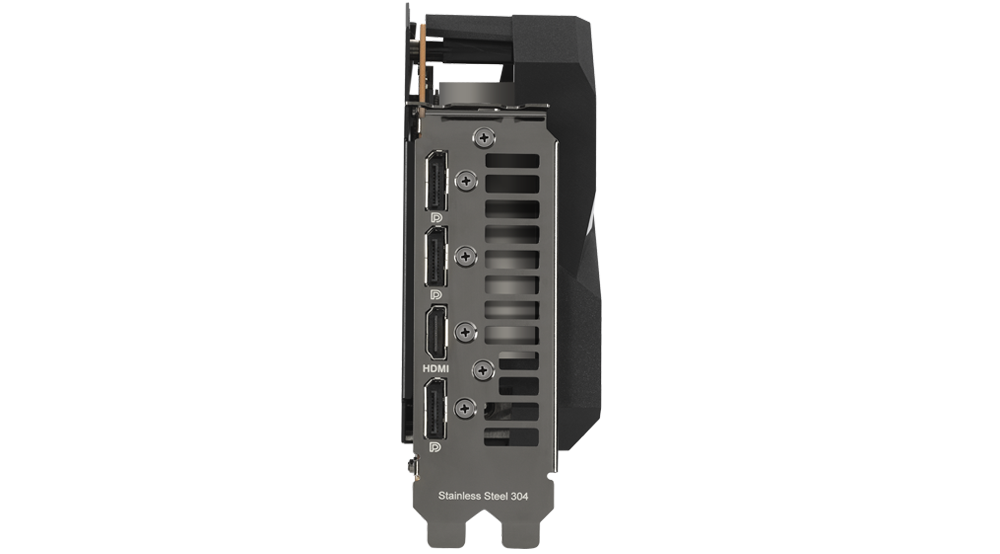 144-hour Validation Program
"Extensive" may be an understatement
Each card must meet rigorous performance and reliability standards before it ships. Performance and stress tests are run with the latest chart-topping titles like Fortnite, League of Legends, Overwatch, and PlayerUnknown's Battlegrounds. We also carry out reliability trials that include a 144-hour stability test and a series of 3DMark benchmarking runs to ensure the card performs well when pushed to the limits.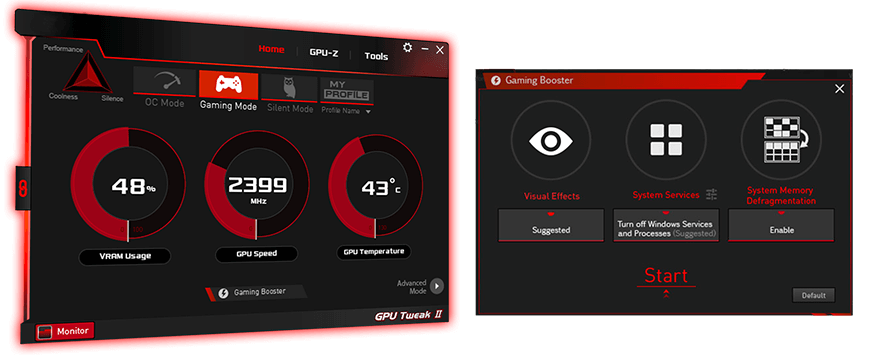 GPU Tweak II
The ASUS GPU Tweak II utility takes graphics card tuning to the next level. It allows you to tweak critical parameters including GPU core clocks, memory frequency, and voltage settings, with the option to monitor everything in real-time through a customizable on-screen display. Advanced fan control is also included along with many more features to help you get the most out of your graphics card.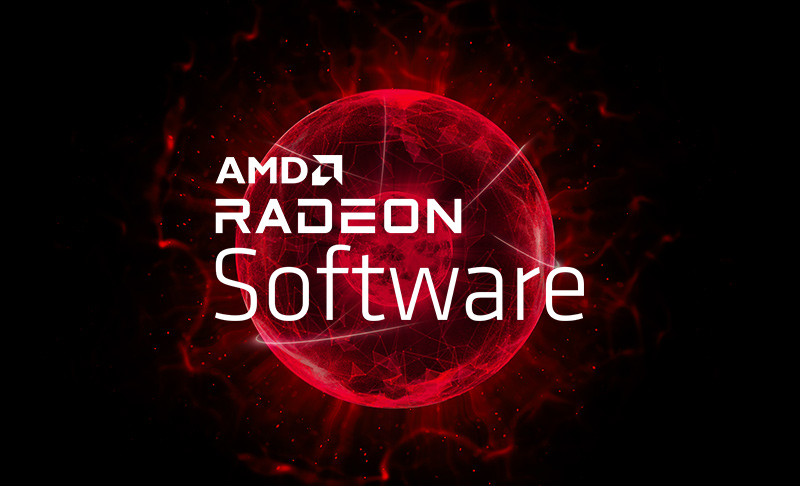 AMD Radeon™ Software
The latest Radeon™ Software unleashes the full potential of your GPU with day-0 drivers optimized for new game releases and a highly customizable gaming experience.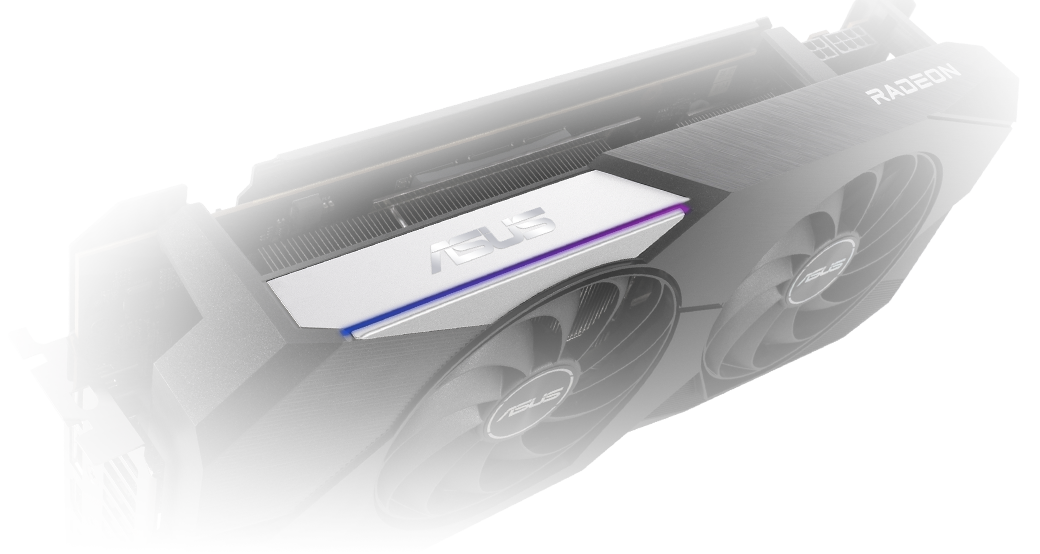 Subtle Lighting
The shroud features a subtle illuminated strip that creates a stylish accent for your build.
Technical Specifications:
Graphic Engine
AMD Radeon RX 6700 XT
Bus Standard
PCI Express 4.0
OpenGL
OpenGL®4.6
Video Memory
12GB GDDR6
Engine Clock
OC mode : up to 2581 MHz (Boost Clock)/2444 MHz (Game Clock)
Gaming mode : up to 2581 MHz (Boost Clock)/2424 MHz (Game Clock)
Stream Processors
2560
Memory Speed
16 Gpbs
Resolution
Digital Max Resolution 7680 x 4320
Interface
Yes x 1 (Native HDMI 2.1) Yes x 3 (Native DisplayPort 1.4a) HDCP Support Yes (2.3)
Maximum Display Support
4
NVlink/ Crossfire Support
Yes
Software
ASUS GPU Tweak II & Drivers: please download all software from the support site.
Dimensions
322 x 152 x 58 mm 12.68 x 5.98 x 2.28 inches
Recommended PSU
650W
Power Connectors
2 x 8-pin
Slot
2.9 Slot